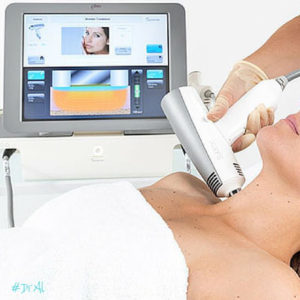 What is SKIN CONTOURING with the eTwo Sublime?
Comfortably reverse the signs of ageing and achieve a more youthful appearance without downtime.  Sublime is the first and only technology that uses combined energies to effectively stimulate collagen production and improve your overall skin quality in areas that are most telling when it comes to age, such as the eyes, brow lines, cheeks and around the neck.
Sublime uses the proven elōs combination of predictable, safe and effective levels of infrared light and bipolar radiofrequency energies to provide controlled deep dermal heating which remodels the dermal layer of the skin by stimulating new collagen growth.  This predictable heating of the deep dermis both shrinks aged collagen fibres and stimulates new collagen synthesis, resulting in the immediate and long term improvement of wrinkles and facial contour with a very low risk of side effects and virtually no downtime.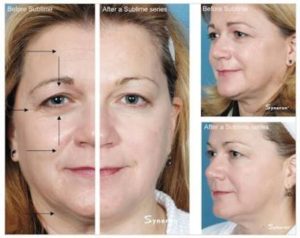 Sublime can improve sagginess of the face, neck and some body areas such as the abdomen or upper arms. Skin texture can also be smoothed out by the firming effect of treatment.  This treatment is performed non-ablatively, which means this is a non-invasive procedure.  Most people leave the treatment room with only slight pinkness or no pinkness at all.
Most patients will have between 3-5 sessions approximately 4 weeks apart.  The best results are seen 3-6 months post completion with maintenance approximately every 6 months.
Downtime: This treatment is performed non-ablatively, which means this is a non-invasive procedure.  Most people leave the treatment room with only slight pinkness or no pinkness at all.
Preparation: The treatment area cannot be sunburnt, and it is best to arrive for your appointment with a clean face.
Approximate Cost: 

Full Face
o Single Treatment – $350
o Course of 3 (15% discount) – $892.50
Body Areas POA