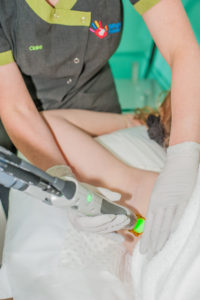 LASER Hair Reduction
What is MEDICAL LASER HAIR REDUCTION?
At Whitsunday Cosmedic Skin Clinic LASER Hair Reduction is achieved with the use of our Candela GentleLASE Class 4 Medical Grade Alexadrite 755nm LASER. This device is TGA/FDA approved for hair reduction. The laser system does this by creating a beam of high-intensity light that penetrates deep into the skin tissue where it delivers a controlled amount of therapeutic heat, without damage to the surrounding tissue. It disrupts the blood supply to the hair follicles that are in an active growth stage only. Approx only 20% of hair being treated are in the active growth stage at one time and for this reason multiple regular treatments are required to achieve a reduction. Hairs can be in the resting stage for 2-7 years and after the recommended regular treatments are completed maintenance treatments will be required over that time frame. As the lights target is melanin, best results seen by LASER are on dark hair, it will not work on white, blonde, red or grey. As melanin is also present in skin best results will be in lower Skin Types and less sun exposed areas. Higher Skin Types are able to be treated however preparation for the skin and more treatments will be required for safety.
GentleLASE Pro® from Syneron-Candela, USA is the premier laser for removing hair, pigmented lesions, veins and wrinkles. Our clinic is the first in the Whitsundays region who can offer you this advanced technology in laser products. GentleLASE Pro® treats all skin types quickly, comfortably and effectively.
What to expect from the treatment?
No laser can claim to have achieved "permanent hair removal", but medical grade lasers can achieve permanent hair "reduction" with approximately a 70% – 90% reduction in hair growth. These results are dependent on the individual and can be influenced by such things as skin type, hair color, and hormones.
Downtime: There is minimal to no downtime with Laser Hair Reduction treatment. Mild, short term redness, swelling around the hair follicle and a 'warm' sensation on the treated skin is normal. Those with sensitive skin and/or allergies can be prone to longer lasting redness, swelling and histamine response (itching). This can easily be reduced with the assistance of over-the-counter antihistamine medication.
Preparation: Area to be treated shaved, no sun exposure for at least 2 weeks before and after treatment, no fake tan, please let your nurse or technician know if you are taking any medications
 Single Treatment Prices
Pricing for our single sessions are:
Arms-$119
Lower Arms-$59
Upper Arms-$69
Underarms-$29
Legs-$159
Lower Legs-$69
Upper Legs-$99
Buttocks-$89
Bikini-$39
Brazilian-$69
Stomach-$79
Snail Trail-$19
Chest-$79
Areola-$19
Back-$159
1/2 Back-$79
1/2 Face-$39
Lip-$10
Chin-$10
Package discounts are available with purchases of the same treatment. A package of 6 treatments attracts a 15% discount; a package of 8 treatments attracts a 20% discount.
At the time of consultation, we can recommend how many treatments you personally may need.
What else can it be used?
GentleLASE Pro® System is effective for treatment of :
Hair removal
Pigmentation spot like freckles, age spot
Sun-damaged skin
Leg veins
Hemangiomas
Facial veins
Fine lines
Any surgical or invasive procedure carries risks. Before proceeding, you should seek a second opinion from an appropriately qualified health practitioner.