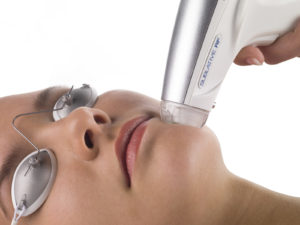 RADIOFREQUENCY SKIN REJUVENATION with eTwo Sublative
The eTwo's Sublative technology is neither laser nor light based. Instead, this one-of-a-kind technology uses fractionated bi-polar radiofrequency directed to the skin in the form of a matrix. Healthy skin around the matrix dots accelerates the healing process of the skin. Post treatment, new collagen and healthy skin cells are produced. Acne scarring, mild to moderate wrinkles and superficial skin discolorations are reduced. The texture of your skin becomes smoother and more elastic.
This fractionated delivery of RF energy causes micro-epidermal ablative injuries with wider spread dermal injury. This initiates a strong wound healing response in the dermal matrix while also minimizing the damage to the epidermis. Less affected tissue surrounding the matrix points may be stimulated by heat which helps accelerate the healing process, leading to a smoother, rejuvenated appearance of the skin.
Mild to moderate wrinkles and superficial skin discolorations are reduced, and skin texture becomes more smooth and elastic.
Usually 2-4 treatments are required for best results. You'll actually feel Sublative working during the treatment and can often start to see results in just a few days. Typical treatment protocol is 2-4 treatments 4-6 weeks apart. The total number of required treatment sessions depends on your skin's condition. You will continue to notice an improvement in the results over a few months after completion of treatment plan, as collagen rebuilds itself.
Downtime: 3 – 5 days depending on strength of treatment & treatment number (consecutive treatments done the recommended 4 – 6 weeks apart often heal a little quicker each time). Make up can be worn approx. 12 hours post treatment.
Preparation: The treatment area must not have been exposed to the sun without protection within 2 weeks of the treatment. It is best to continue this post-treatment also. A numbing cream is used immediately prior to treatment to maximise comfort.
Approximate Cost: The eTwo sublative does not come as a single treatment as results are best within a package.

2 treatments (Face) $590
4 treatments (Face) $990
2 treatments (Face & Neck or Decolletage) $990
4 treatments (Face & Neck or Decolletage) $1590
Any surgical or invasive procedure carries risks. Before proceeding, you should seek a second opinion from an appropriately qualified health practitioner.