Dermaplaning – Dermablading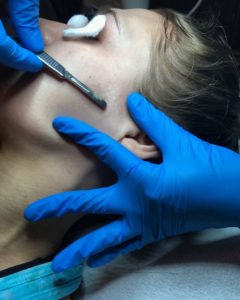 A Dermaplaning treatment is great for helping to restore a youthful glow, as the dead skin cells that sit in the hair on our face can give us a dull, lacklustre complexion.
Removing this hair, along with the dead skin, will leave you with a healthy, glowing complexion. Results from Dermaplaning can be seen instantly. It is performed using a sterile scalpel blade that gently glides over the skin, deeply exfoliating the skin, getting rid of dead skin cells and removing any fine vellus hair (peach fuzz).
This procedure creates a flawless surface that allows better application of makeup. It also prepares the skin for advanced treatments such as chemical peel, laser treatment, etc. The procedure can be repeated every 4-6 weeks, based on requirement.
Benefits of Dermaplaning:
​

Removes fine vellus hair (peach fuzz hair)
Removes surface dead skin

Gives full face exfoliation

Restores a youthful glow

Brightens a dull and lacklustre complexion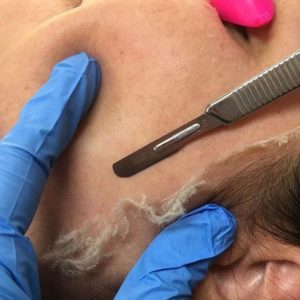 Any surgical or invasive procedure carries risks. Before proceeding, you should seek a second opinion from an appropriately qualified health practitioner.