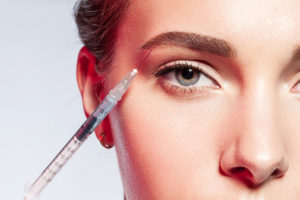 Anti-Wrinkle Injections
What are ANTI-WRINKLE INJECTIONS?
The treatment involves a series of small injections of anti-wrinkle product which will weaken the chosen muscles.  Weakening specific muscles of the face will soften the appearance of lines and wrinkles.  Treatment should begin to take effect within 2-3 days and continue to improve up to 7 days post treatment lasting up to 3months.
Anti-wrinkle injections have other non-cosmetic uses; for example, to reduce Hyperhidrosis (excess underarm perspiration) and used to relax the muscles of the jaw to relieve jaw clenching.
The practice of medicine is not an exact science. We can expect a good result from the treatment, however the desired outcome cannot be guaranteed. The product we use is included on the Australian Register of Therapeutic Goods (ARTG) for cosmetics use in frown lines, crow's feet and forehead lines.
Approx amount of units required
Due to changes in TGA advertising guidelines, we are not able to advertise any prices in regards to units or mL's or other measures of Schedule 4 medication.  Please call us on 4948 3962 to book a consultation with Dr McCann or Dr Carey and obtain a treatment quote.
Downtime: Generally with Anti-wrinkle injections there is minimal downtime. As a needle is used there is the risk of bruising, which is reduced as much as possible by the treating Doctor and/or Nurse. Mild short term localised redness and swelling (similar to a mosquito bite) is common.
Approximate Cost: Due to regulations regarding anti-wrinkle injections and their classification as a Schedule 4 medication, an approximate cost cannot be provided without a consultation with our Doctor.
Injectable Appointment Policies*
As of 1st July 2019 the following will apply to our injectable appointments:
– there will be a minimum charge of $135 for all injectable consultation appointments (anti-wrinkle/dermal filler/fat dissolver) with Dr Mel.
– No-show appointments may incur a fee which will be required to be paid before further appointments can be scheduled.
– Management reserves the right to refuse appointments or treatment to clients who may not align with clinic values.
Any surgical or invasive procedure carries risks. Before proceeding, you should seek a second opinion from an appropriately qualified health practitioner.