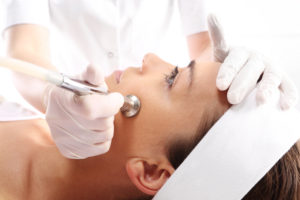 Microdermabrasion
What is MICRODERMABRASION and SONOPHORESIS?
Microdermabrasion is a non-surgical treatment designed to mechanically remove the outermost surface of skin cells. This cell layer is actually dead and there is no direct blood supply to this layer. This outer keratin layer of skin contributes the appearance of aging skin. This also means that products applied to the skin are not able to reach the underlying new skin and may be less effective.
Microdermabrasion deeply exfoliates and polishes the skin using a gentle vacuuming system and diamond tips, this removes dull dead skin cells and assists in unclogging pores.
Sonophoresis is a treatment that uses ultrasonic (soundwave) technology. The treatment increases circulation, assists in toning while infusing treatment products deeper into the skin. An immediate result is achieved, with increased smoothness, firmness and hydration. It is suitable for all skin types and delivers excellent results.
Combined…Microdermabrasion perfectly prepares the skin's surface for the enhanced infusion of treatment products applied during sonophoresis.
Microdermabrasions have many skin health benefits and is most effective in treating:
Congestion
Dull Skin
Dehydration
Increased Product Penetration
Age revealing hands and feet
It is important to remember that although smoother and refined skin may be seen immediately following the treatment, to obtain best results regular treatments as well as following a prescribed home care plan is advised.
Any surgical or invasive procedure carries risks. Before proceeding, you should seek a second opinion from an appropriately qualified health practitioner.