TEAR TROUGH INJECTIONS
It is a fact of life that our face changes a lot as we get older. In particular, the face loses its natural volume and skin elasticity is reduced, due to the decrease in collagen production. This can affect under the eyes, where skin is already thinner and more sensitive. Tear troughs are the area underneath the eye and above the upper cheek, where hollows can form as we age. With this loss of volume and drooping of the skin, dark circles can appear that make you look tired and older than your years.
Dermal filler injections are a non-invasive treatment that can be used to combat tear troughs. The dermal filler is used to plump up the skin and fill in the hollow. This can lighten dark circles and tighten loose skin.
To find out if dermal filler injections is the right treatment for you, a consultation will be arranged with our Doctor. This will allow the patient an opportunity to find out more about the procedure and how it can help their tear troughs.
After an examination of the eye area and answering some questions, the Doctor will be able to outline expected results for the patient. The consultation is the best time for patients to ask any questions about dermal fillers or tear trough injections procedure. This will allow you to make an informed decision about the treatment. If the patient decides to go ahead with the treatment in our clinic, a date and time for the first treatment session can be arranged.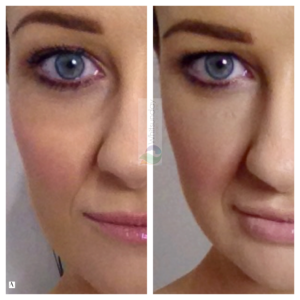 TEAR TROUGH INJECTIONS – TREATMENT INFORMATION
Tear Trough injections is a non-surgical procedure that can be completed in 30 – 45 minutes. Before the treatment begins, patients can have an anaesthetic cream applied to the skin. This will numb the part of the face where a series of injections will be inserted, to make sure that patients are as comfortable as possible.
The dermal filler will be injected underneath the skin above the eye socket bone, plumping out the hollows underneath the eyes. The skin will be massaged, in order to distribute the dermal filler evenly.
Tear Trough injections will leave no facial scars and you will be able to see a difference instantly after treatment. Small amounts of bruising and swelling in the eye area is common, due to the sensitivity of the skin. But, this will decrease within a few days of treatment. The skin may also be tender to touch. This will also fade within a week of receiving dermal filler injections.
THE RESULTS
The results of dermal filler injections can be enjoyed immediately and many people have achieved success with this treatment for tear troughs. It has been used to tackle the signs of aging, refreshing the under-eye area and relieving tried looking eyes. With the concealment of dark circles, the patient can look rested with a youthful appearance.
But, it is important to remember that results from tear trough treatment are individual. If you would like to find out more about what dermal filler injections can do for you, it is necessary to speak to an experienced professional for an expert opinion.
In addition, while this treatment can last between 18 to 24 months, this will depend on the individual.
Downtime: Small amounts of bruising and swelling in the eye area is common, due to the sensitivity of the skin. This usually decreases within a few days of treatment.
Preparation: It is best to avoid any non-prescription blood thinning medication e.g. aspirin, fish oil as it can make bruising more likely. If you are prone to cold sores, a prophylactic anti-viral may be recommended.
Approximate Cost: Due to regulations regarding dermal filler injections and their classification as a Schedule 4 medication, an approximate cost cannot be provided without a consultation with our Doctor.
Any surgical or invasive procedure carries risks. Before proceeding, you should seek a second opinion from an appropriately qualified health practitioner.
Injectable Appointment Policies*
As of 1st July 2019 the following will apply to our injectable appointments:
– there will be a minimum charge of $75 for all injectable appointments (anti-wrinkle/dermal filler/fat dissolver) with either Dr Mel.
– No-show appointments may incur a fee which will be required to be paid before further appointments can be scheduled.
– Management reserves the right to refuse appointments or treatment to clients who may not align with clinic values.