Lip Enhancement – Lip Injections – Lip Filler
The lips are one of the most prominent features on the face where people's eyes are drawn to first. This means that as we get older, changes to the appearance of the lips are inevitable and visible. Yet, the lip filler procedure at Whitsunday Cosmedics Skin Clinic may help to restore the natural volume and plumpness of the lips, as well as reduce the appearance of wrinkles to combat the signs of aging.
HOW LIP FILLERS WORK
Reducing the appearance of fine lines and wrinkles is achieved through dermal filler injections to the lips, which is a non-invasive and simple treatment. In addition, the lip line can be defined, with the restoration of the youthful Cupid's bow and natural lip contour.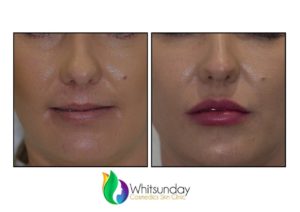 BENEFITS OF LIP INJECTIONS
Fast and simple procedure
Minimal downtime
Non-surgical treatment
Minimal discomfort
Combat signs of aging
Reshape the lips
As well as providing professional lip filler procedures at our clinic, we also offer a comprehensive range of cosmetic injection treatments, including check filler injections, anti ageing injections and more.
CONSULTATION AT WHITSUNDAY COSMEDIC SKIN CLINIC
Before receiving lip fillers, patients will attend a consultation with our Doctor. This will allow you to find out if this dermal filler treatment is right for you and you can discuss what results you would like to achieve. In addition, we can give you an idea of what you can expect from the procedure.
The consultation is also the best time to ask any questions you have about the procedure or have your concerns addressed directly by an experienced professional before deciding whether to go ahead with treatment.
THE PROCEDURE
Prior to receiving the dermal filler injections, an anaesthetic cream will be applied to the skin to numb the area. This will make sure that patients are as comfortable as possible, with any pain minimised.
Our Doctor or Injection Nurse will use a series of fine injections administered directly to the lips to insert the substance underneath the skin.
In addition, the lips will be gently massaged to make sure that the dermal filler is evenly distributed into the lips for a natural looking plumpness. The lip injection procedure normally lasts around 30 to 45 minutes.
LIP FILLERS – Frequently Asked Questions
WHO IS THE IDEAL CANDIDATE FOR LIP FILLERS?
Lip injections are suitable for both men and women, as well as all skin types. The ideal candidate would be noticing signs of aging and a loss of volume specifically on the lips. In addition, there may be wrinkles and the loss of the shape of the Cupid's bow.
DO LIP INJECTIONS HURT?
Lip injections are well tolerated by patients. The anaesthetic numbing cream makes sure that patients are comfortable during the procedure and while you may feel the sensation of injections going into the skin, this should not be painful.
ARE THERE ARE ANY AFTER EFFECTS?
It is normal for the lips to appear slightly swollen straight after the lip filler injections. But, this should subside within 48 hours of treatment. You may also see a small amount of bruising on the surface area where the needles were inserted. Again, this will soon disappear on its own.
WILL I HAVE TO TAKE TIME OFF WORK?
There is minimal downtime associated with lip injections. Patients are free to leave the clinic as soon as they are ready and return to their daily routine. This means that in most cases, you will not have to take time off work.
The results of lip injections can be realised instantly after treatment.
Downtime: There is minimal downtime associated with lip injections. You may notice the lips appear slightly swollen and you may see a small amount of  bruising on the surface area where the needles were inserted. The swelling usually subsides within 48 hours and bruising will go away on its own, or we are able to use a vascular laser to hasten the bruise healing process.
Preparation: It is best to avoid any non-prescription blood thinning medication e.g. aspirin, fish oil as it can make bruising more likely. If you are prone to cold sores, a prophylactic anti-viral medication is recommended.
Approximate Cost: Due to regulations regarding dermal filler injections and their classification as a Schedule 4 medication, an approximate cost cannot be provided without a consultation with our Doctor.
Any surgical or invasive procedure carries risks. Before proceeding, you should seek a second opinion from an appropriately qualified health practitioner.
Injectable Appointment Policies*
As of 1st July 2019 the following will apply to our injectable appointments:
– there will be a minimum charge of $75 for all injectable appointments (anti-wrinkle/dermal filler/fat dissolver) with Dr Mel.
– No-show appointments may incur a fee which will be required to be paid before further appointments can be scheduled.
– Management reserves the right to refuse appointments or treatment to clients who may not align with clinic values.