HYPERHIDROSIS (EXCESSIVE SWEATING) TREATMENTS
Sweating is a natural bodily function that everyone experiences. By sweating, the body is able to regulate its temperature and cool down. In particular, sweating is common during exercise and when there is warm weather.
Hyperhidrosis is a condition that causes some people to sweat more than others. This can occur for many reasons, such as during periods of stress or anxiety. Uncontrollable sweat can be present on the underarms, palms of the hands, soles of the feet, head and face.
Anti-wrinkle injections can be used to combat hyperhidrosis and tackle excess sweating. This treatment works by blocking the nerve signals from the glands to the brain, which normally triggers sweat.
Once these signals are interrupted, this can restrict sweat production for the patient. This treatment is suitable for men and women.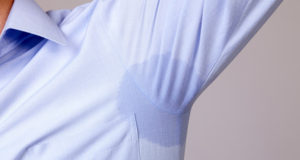 To find out whether anti-wrinkle injections will be the right procedure to treat hyperhidrosis, patients will attend a consultation with our Doctor.
They will examine the areas where treatment can be beneficial and advise the patient on the expected results if they go ahead with the procedure.
The consultation is the best time for patients to ask any questions about hyperhidrosis and the procedure. The professional will be able to answer their queries, making sure patients can make an informed decision about treatment.
HYPERHIDROSIS TREATMENT
Administering anti-wrinkle injections only takes around 30 minutes, depending on the area that is being treated. This will involve the patient receiving a few injections with a fine needle into the affected area.
This can be uncomfortable for patients, especially if treatment is on a sensitive area of the body. Professionals will do their best to make the treatment as easy as possible. A topical anaesthetic cream may be used for patient comfort.
Experiencing numbness of the skin can be common after receiving treatment for hyperhidrosis? This will fade within a few hours, after the procedure is complete. In addition, there may be small bruises from the injections.
Again, the appearance of bruises will heal on their own within a few days. There is minimal downtime associated with anti-wrinkle injections and patients will be free to return to their daily routine after the procedure.
The effects of excessive sweating treatment will be fully realised within a few weeks.
THE RESULTS
Many patients have enjoyable and positive results from receiving anti-wrinkle injections. This has reduced excessive sweating, keeping patients dry and comfortable. The results of hyperhidrosis treatment are estimated to last around six to twelve months.
It is important to remember that results from hyperhidrosis treatment are individual. In addition, the amount of time anti-wrinkle treatment will last can vary from person to person.
During a consultation with our Doctor, patients will be able to gain a better idea of the results of anti-wrinkle treatment for their body.
Downtime: There is minimal downtime associated with anti-wrinkle injections and patients will be free to return to their daily routine after the procedure.
Preparation: There is no specific preparation for this treatment. The consultation will occurr prior to any treatment so that you are aware of what is involved with the procedure.
Approximate Cost: Due to regulations regarding anti-wrinkle injections and their classification as a Schedule 4 medication, an approximate cost cannot be provided without a consultation with our Doctor.
Any surgical or invasive procedure carries risks. Before proceeding, you should seek a second opinion from an appropriately qualified health practitioner.